News
Avoid a DIY disaster
23rd August 2018
Electrical Safety First campaign on behalf of consumers and electrical professionals to improve safety regulation and ensure that safety messages are appropriate, up-to-date and well-communicated. They are recognised by government and industry as the leading campaigning charity and technical authority on electrical safety, so when they issue advice for DIYers, it's worth paying attention.
According to Electrical Safety First, each year in the region of 70 people die and more than 350,000 are seriously injured as the result of electrical accidents at home. When they spoke to registered electricians about their experiences, 33% confirmed that they had seen electric shocks caused by botched DIY activity and 15% reported that this activity had been the cause of an electrical fire.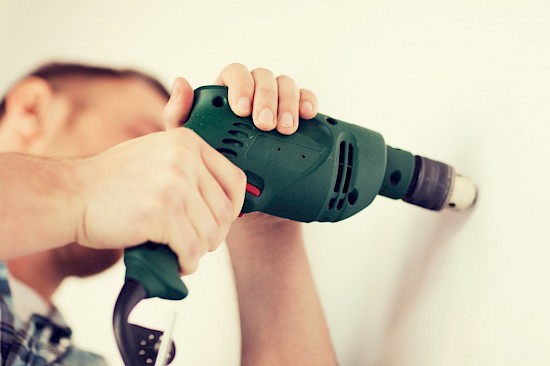 Amateur DIYers are most likely to cut through power leads, drill into wiring and attempt to repair items when they are still plugged in. As a result, Electrical Safety First's top tips for DIY safety and success are as follows:
Make sure you know where the cables are located in your walls. It's common for amateurs to screw, drill or nail into hidden cables, but a cable detector will help you avoid this eventuality and reduce the likelihood of an electric shock.
Use a residual current device (RCD). An RCD will cut off the power if a DIY mistake causes an electrical fault, so it's wise to have one fitted to your fusebox and also to purchase a plug-in version.
Turn off the power. Whatever you're doing, it's always sensible to shut down the power in the fusebox and work with battery-operated tools.
Check your tools and take care with the leads. It's good practice to give any tool and its lead a visual check before you start work to make sure they're both in good condition. Have any visible damage repaired before you start work. Remember that it can be very dangerous to cut through a power lead, and that any lead can represent a trip hazard.
And as Mark Smith, owner of MS Electrical Services, confirms, if you're in any doubt or lacking in confidence, don't DIY. 'At MS Electrical we're keenly focused on electrical safety,' says Mark, 'so our message is to engage a qualified electrician to undertake electrical work within your property, especially if you are in any doubt as to what to do. Over the years we have seen some terrible situations caused by DIY mistakes and amateurish installations, so we do encourage householders, letting agents and business owners to call in an expert to ensure everything is safe.'
MS Electrical Services offer PAT testing and fixed wire testing in Cambridge, so please contact us to discuss your requirements.
We have been extremely pleased with the service provided by MS Electrical. In all our dealings with them they have proven to be efficient, reliable and a pleasure to deal with. We would not hesitate to recommend their services.
Cambridge Property Lettings
9th January 2019
SafeContractor success - again!
20th December 2018
Merry Christmas everyone!
12th December 2018
Avoid a shock this Christmas
Did you know...
2 in 3 Brits would have a go at electrical DIY in the home instead of using a professional.