News
Don't be in the dark about emergency lighting
13th November 2018
Whether it's an office, warehouse, shop or community building, any non-domestic premises must have a responsible person in charge of the overall safety of its users. These may be staff, customers, suppliers, visitors, members or children, and they must be able to enter, use and exit the building without risk at any time of the day. In the hours of darkness, this places the emphasis on effective emergency lighting, especially in the event of a power outage.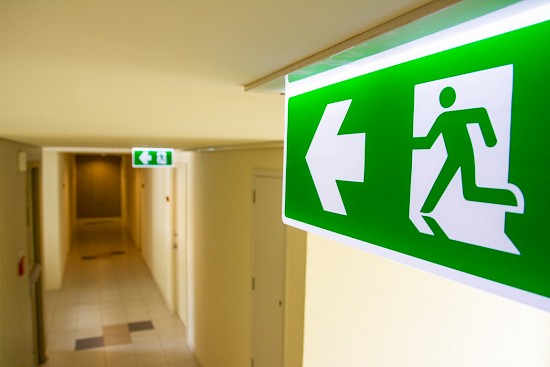 Article 14 (2) (h) of the Regulatory Reform (Fire Safety) Order (RRFSO) 2005 states that 'Emergency routes and exits requiring illumination must be provided with emergency lighting of adequate intensity in the case of failure of their normal lighting'. As well as providing sufficient lighting for entry and egress, the onus is on the responsible person to ensure that fire-fighting equipment within the building is well lit and that there is adequate illuminated signage to guide people to the emergency exits.
As Mark Smith, owner of MS Electrical Services, observes, keeping electrical safety in check extends to the installation and upkeep of your emergency lighting. 'At MS Electrical we work with our clients to ensure they remain compliant with their emergency lighting,' says Mark. 'We cover everything from identifying the most appropriate positioning for each light and installing the lighting with a minimum of fuss right through to regular maintenance. Ultimately, we're passionate about maintaining electrical safety and protecting everyone in the event of emergencies and power outages.'
MS Electrical Services offer emergency lighting installation and maintenance in Cambridge, so please contact us to discuss how we can keep your staff and customers safe.
We have been extremely pleased with the service provided by MS Electrical. In all our dealings with them they have proven to be efficient, reliable and a pleasure to deal with. We would not hesitate to recommend their services.
Cambridge Property Lettings
30th January 2019
PAT testing at The Cold Rooms
9th January 2019
SafeContractor success - again!
20th December 2018
Merry Christmas everyone!
Did you know...
2 in 3 Brits would have a go at electrical DIY in the home instead of using a professional.