News
The importance of emergency lighting
7th August 2018
At MS Electrical we are working with a number of clients to ensure that their emergency lighting installations can be relied upon when required.
Emergency lighting and signage are an essential component for any commercial building in order to help employees and visitors exit quickly and safely should the need arise. As specialists in electrical safety and testing, we continuously stress the importance of having effective emergency lighting installed, especially as this area is regulated by the OSHA. But our involvement doesn't end there as we carry out regular maintenance in order to ensure that everything continues to function correctly after installation.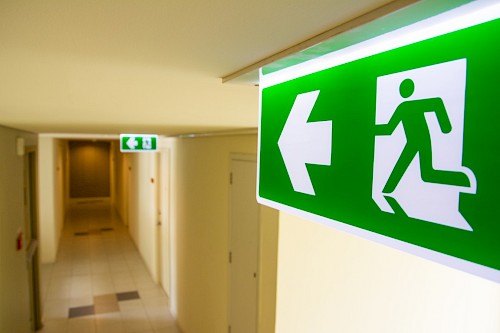 Emergency lighting and signage are all about safety. If the power fails, it's vital that everyone can leave the building, so stairwells and hallways must remain passable, and emergency lighting can also help to reassure people during an actual emergency by illuminating the evacuation route. Emergency lighting falls into two categories: internal illumination where the lighting is contained within the sign itself, and external illumination where the lighting sits outside the sign and is often incandescent or florescent. Aside from the safety of staff and visitors, emergency lighting can be invaluable for a fire crew and - in the worst case scenario - a search and rescue team if they have to attend an incident such as a fire.
As Mark Smith, owner of MS Electrical Services, confirms, there is merit in having a single supplier install and maintain emergency lighting. 'Our experience of emergency lighting is that larger buildings often have a mixture of lights and signs from different suppliers and manufacturers, which can lead to confusion,' says Mark. 'Whether this relates to varying voltage chargers, lamps or batteries, a lack of consistency can be detrimental to the overall safety of the building. At MS Electrical, we carry out a site survey, recommend the most appropriate emergency lighting and signage and then encourage clients to engage us for regular maintenance as you never know when the lighting might be required.'
MS Electrical Services offer PAT testing, fixed wire testing and emergency lighting services in Cambridge, so please contact us to discuss your requirements.
We have been extremely pleased with the service provided by MS Electrical. In all our dealings with them they have proven to be efficient, reliable and a pleasure to deal with. We would not hesitate to recommend their services.
Cambridge Property Lettings
30th January 2019
PAT testing at The Cold Rooms
9th January 2019
SafeContractor success - again!
20th December 2018
Merry Christmas everyone!
Did you know...
2 in 3 Brits would have a go at electrical DIY in the home instead of using a professional.